"But just how interesting can 11,000 sq km of flat salt possibly be?"  Geoffrey asked when going over our Peru / Bolivia itinerary.
As it turned out it was the highlight of the whole trip.  A case of "less is more" especially when you've come from the massive cities of Lima and La Paz and the crowds of Machu Picchu.
Salar de Uyuni, amid the Andes in southwest Bolivia, is the world's largest salt flat.  To get from one part to another involves a lot of driving so you need to be prepared for the conditions.  It can be hot, cold, dusty, and bumpy, the reflections from the salt will blind you without sunglasses, and of course the altitude (nearly 4,000 m).  You also need to brace yourself for very long days including early starts if you want to stargaze or catch the sunrise.  So it will be hard work, you need to go with a reputable tour guide otherwise you could be in a lot of trouble very quickly in the middle of nowhere if something goes wrong…
However the rewards are massive.  There was one area where you drive through the vast desert and there are these dramatic 5,000m + volcanoes around you.  Geoffrey thought it was like travelling through the South and Red Craters of the Tongariro  Crossing x 100 fold and 3,000m higher!
There is Incahuasi Island –  a beautiful cactus-covered island – a totally bizarre sight in the middle of the flats.
The thermal activity including mudpools and geysers – another sight apparently in the middle of nowhere.
Native wildlife – flamingos around the colourful lagoons, vicunas, flamingo, vizcacha and domesticated animals such as llama and alpaca – just so much to look out for.
There are the stunning sunrise and sunsets and of course the opportunity to take some amazing perspective photo shots to show off to your friends back home.
If I had one regret – I wish I'd brushed up my photo-taking skills before I arrived.  This place is a photographer's paradise… but the altitude can make it hard physically.
If you would like more information about this destination please contact me.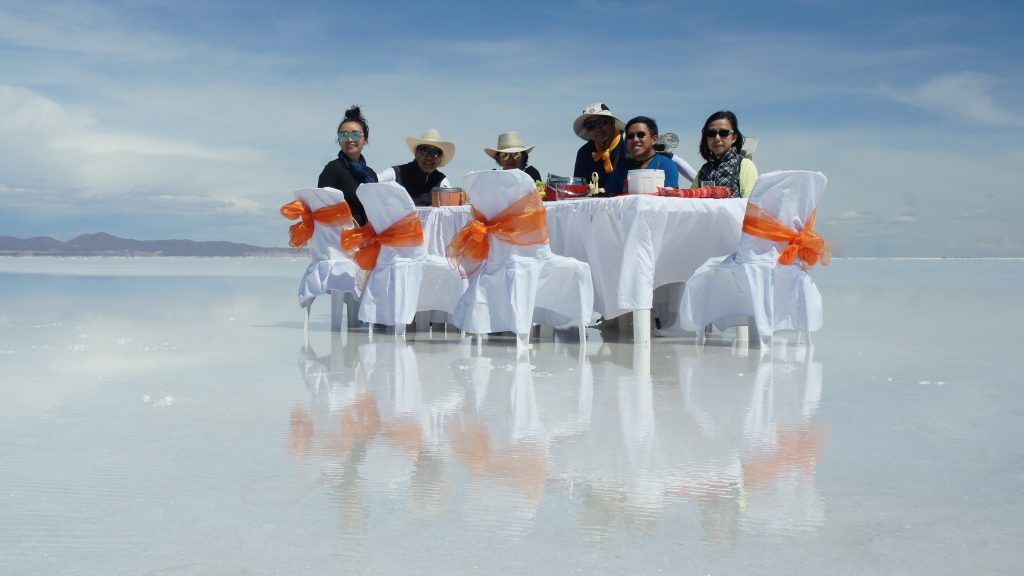 Lunch on the Salar de Uyuni